Inventory Details
Titles marked "On our shelves now" are on the shelf at Once Upon a Time in Montrose. You can choose to pick up the item at the store or we can ship it for you.
Titles marked "Ships in 1-5 days" are NOT in our store currently but can be fulfilled from our local warehouse depending on availability.
Title marked "Special Order" are NOT in our store currently, and our experience shows, they are usually out of print or otherwise unavailable.
Find out more about our online inventory here.
In Mary's Garden (Hardcover)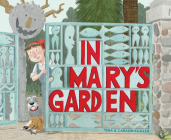 List Price: $17.99
Our Price: $16.99
(Save: $1.00 6%)
Description
---
While the rest of her classmates were making pastries in cooking classes, Mary Nohl was making art--anything she fancied out of anything she could find. Inspiration struck Mary even when she wasn't looking for it. Mary used common objects to make uncommon art. And one day, her garden was a gallery.
Mary Nohl passed away in 2001 at the age of eighty-seven. Her famous garden gallery is located in the front yard of her Fox Point, Wisconsin, home to this day.
Staff Picks
Jake's diary chronicles the story of him setting out on a trading ship that gets attacked by pirates. After he gets press-ganged into a pirate crew, he learns all sorts of thing about piracy. This book is chock full of true facts about pirates in the real world. Curious adventure readers ages 7-9 will love this story. - Pete
---