Inventory Details
Titles marked "On our shelves now" are on the shelf at Once Upon a Time in Montrose. You can choose to pick up the item at the store or we can ship it for you.
Titles marked "Ships in 1-5 days" are NOT in our store currently but can be fulfilled from our local warehouse depending on availability.
Title marked "Special Order" are NOT in our store currently, and our experience shows, they are usually out of print or otherwise unavailable.
Find out more about our online inventory here.
Grandmother Fish: A Child's First Book of Evolution (Hardcover)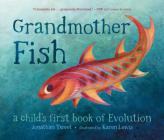 Staff Reviews
---
"This is our Grandmother Fish. She lived a long, long, time ago. She could wiggle and swim fast. Can you wiggle?" I cannot recommend this book more… A kid's level story of our evolutionary history that's all at once fun, interactive, and very scientifically accurate it's such to be a hit with little evolutionary biologists. And it even has more detailed information about our evolutionary phylogeny at the end for more curious little ones or curious parents! - - Linnea
— From
Staff Picks by Linnea
Description
---
Where did we come from?
It's a simple question, but not so simple an answer to explain especially to young children. Charles Darwin's theory of common descent no longer needs to be a scientific mystery to inquisitive young readers. Meet Grandmother Fish.
Told in an engaging call and response text where a child can wiggle like a fish or hoot like an ape and brought to life by vibrant artwork, Grandmother Fish takes children and adults through the history of life on our planet and explains how we are all connected.
The book also includes comprehensive backmatter, including:
- An elaborate illustration of the evolutionary tree of life
- Helpful science notes for parents
- How to explain natural selection to a child
About the Author
---
Jonathan Tweet has been an innovative game designer for over 25 years and a fan of evolution for even longer. His award-winning games are well-known for engaging the players' imaginations and encouraging creative participation. Grandmother Fish, his first children's book, took 15 years to complete. It began when he couldn't find a book to help him teach his daughter about evolution, so he decided to write one himself.Karen Lewis is a Seattle-based illustrator for children's storybooks, history, and science. She strives to make her art accessible, accurate and visually delicious. She's the resident cartoonist for Cobblestone, an American history magazine for kids. Her children's books include Will it Blow - Become a Volcano Detective at Mount St. Helens, Amazing Alaska and Arturo and the Navidad Birds.
Staff Picks
The Nightrunner series has quickly become my new favorite fantasy series. Flewelling has created a full and interesting fantasy world that brings freshness to many classic tropes of the genre. Luck in the Shadows shines when it comes to characters. Flewelling knows how to let a character grow naturally and come to life in her stories. Any lover of high fantasy age 16 and up should make this a part of their collection. - Pete
---